Vickys Venison Cider Casserole, GF DF EF SF NF.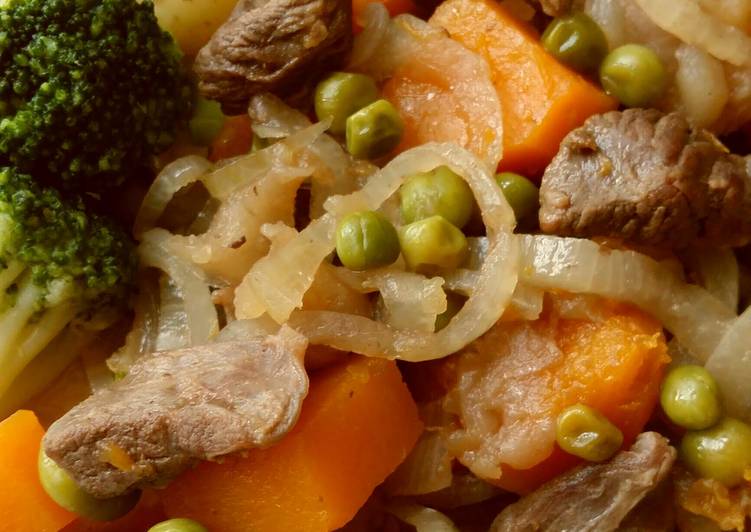 You can have Vickys Venison Cider Casserole, GF DF EF SF NF using 13 ingredients and 10 steps. Here is how you achieve that.
Ingredients of Vickys Venison Cider Casserole, GF DF EF SF NF
You need 675 grams of venison shoulder, diced.
Prepare 5 tbsp of gluten-free / plain flour.
It's of salt & pepper, I use 1/2 tsp salt and 1 tsp pepper.
It's 2 tbsp of sunflower spread / butter.
Prepare 1 of medium onion, sliced.
Prepare 500 grams of butternut squash, pumpkin or sweet potato, peeled and diced into big chunks.
Prepare 1 of large cooking apple, peeled, cored & diced into chunks.
It's 400 ml of apple cider (or pure apple juice).
Prepare 3 tbsp of free-from worcestershire sauce or soy sauce from my links below.
You need 3 tbsp of maple syrup.
Prepare 1/4 tsp of ground cinnamon.
You need 100 grams of frozen peas.
Prepare 2 tsp of gravy granules * see note below * or 2 tsp cornflour / corn starch.
Vickys Venison Cider Casserole, GF DF EF SF NF instructions
Preheat the oven to gas 3 / 170C / 325°F or set a slow cooker / crockpot on high.
Season the flour with salt & pepper then toss the venison in the flour. Melt the sunflower spread in a frying pan and brown the diced venison. Don't cook it right through.
Remove the venison from the pan and put it into a large casserole dish or slow cooker. Put the pan back on the stove.
Layer the onion on top of the venison in the casserole dish, then the butternut squash / sweet potato then the apple.
Pour the cider into the frying pan. Bring it to the boil then stir in the cinnamon, worcestershire sauce & maple syrup and take off the heat https://cookpad.com/us/recipes/338187-vickys-homemade-worcestershire-sauce-vegan https://cookpad.com/us/recipes/332952-vickys-soy-sauce-substitute.
Pour into the casserole dish, put the lid on and cook for 2.5 – 3 hours in the oven or for 4 – 5 hours on high in the slow cooker, adding the peas in the last 20 minutes of cooking.
Let stand 10 minutes then toss very gently to mix before serving.
To thicken the gravy, strain the liquid into a saucepan and boil. Add 2 tsp gravy granules or 2 tsp cornflour mixed with 1 tbsp cold water into the pan and stir. Keep stirring throughout to avoid clumping.
Add the gravy back into the casserole and serve with crusty bread or seasonal vegetables.
Bisto Original Gravy Granules in the brown cardboard rectangular box is dairy, egg and soy-free with but contains wheat which is a shame as the main ingredient is potato starch. Bisto Best Gravy in the glass jars are free from gluten, dairy and egg but contain soya lecithins. There are other free-from gravy granules available such as the Kallo brand that are also gluten-etc-free.