Korean style sweet & sour chicken. See more ideas about Korean fashion, Style, Korean outfits. Korean Fashion, Skincare & Beauty Online. Enjoy tasty Korean food without leaving home.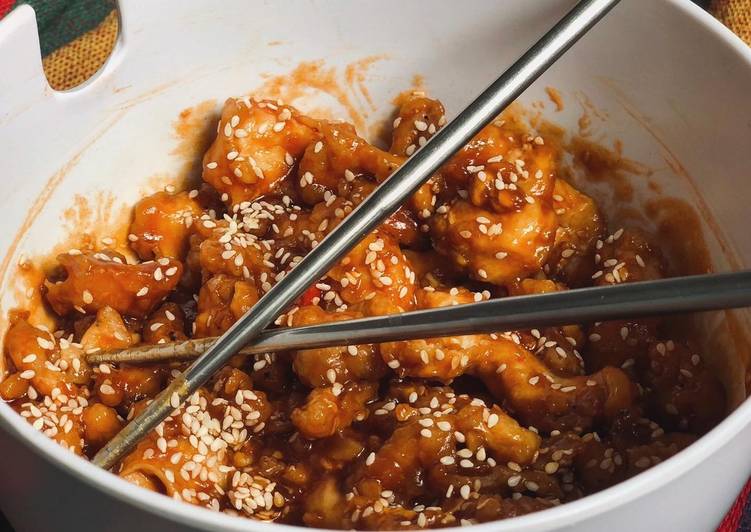 How to make Korean style candied sweet potatoes (Goguma Mattang). Korean candied sweet potatoes are very easy and simple to make, so you should try this for your dinner tonight! This Korean Style Sweet Potato Noodles. You can cook Korean style sweet & sour chicken using 8 ingredients and 4 steps. Here is how you cook that.
Ingredients of Korean style sweet & sour chicken
Prepare of Boneless chicken (breast part).
It's of Oyster sauce.
Prepare of Vinegar.
You need of Sprite (beverage).
You need 1 of little bit of tomato sauce.
You need of Kosher salt.
You need of Black pepper.
You need of Sesame seeds.
Traditionally, Korean meals don't usually have desserts served at the end. The sweet things in this category are meant to be served on special occasions, by themselves as. Tangsuyuk is Korean style sweet and sour pork. Korean-Style Sweet and Sour Pork. asia korean asian korean style asian style korea cute kawaii photography photooftheday photoshoot aesthetic japan japanese lovely beautiful sweet pretty yummy yummy food food asian food yumyum.
Korean style sweet & sour chicken step by step
Just fry the boneless chicken with breadings.
On the other pan put the vinegar until the smell is gone.
Then add the oyster sauce and tomato sauce along with salt.
Then put the fried chicken on it then spread some pepper and sesame seeds.
Get ready to experience some sizzling Singaporean Go-chu-jang a sweet-hot-salty traditional Korean sauce, blends perfectly with tender Hokkien noodles. I'm Hyosun, and I am a Korean-American mom of two wonderful Here, you will learn how to cook Korean dishes the way we Koreans traditionally eat at home. These Korean Style Lamb Cutlets are slightly spicy and totally moreish – marinate them for a couple of hours for extra flavour! It's a korean sauce or paste with a smoky-sweet and slightly spicy flavour. I wanted a robust sweet / tangy dressing that would dress a kale salad well.