Panda Express Sweet Fire Chicken.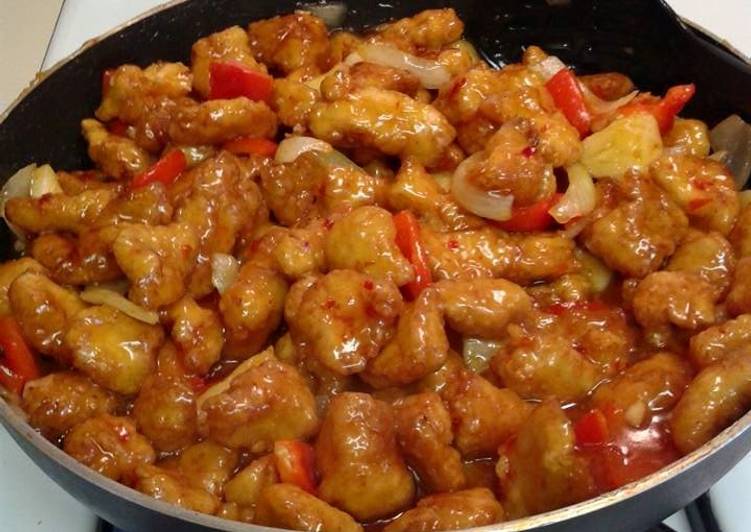 You can have Panda Express Sweet Fire Chicken using 14 ingredients and 17 steps. Here is how you cook that.
Ingredients of Panda Express Sweet Fire Chicken
Prepare 3 large of Chicken Breasts (Cut Into 1in Chunks).
Prepare 1 of Bottle Panda Express SweetChili Sauce (Found In Local Market).
You need 1 medium of Onion Cut Into Long Strips.
It's 1 large of Red Bell Pepper Seeded and Cut Into Diced Chunks.
Prepare 1 1/4 cup of Frozen Pineapple (Thawed) Pineapple Pieces Can be Cut in Half if to Large.
Prepare 1/4 cup of Pineapple Juice From Thawed Pineapple Bag (Add a little water if not enough juice to fill the cup).
It's 2 clove of Garlic, Diced Finely.
It's 1 large of Mixing Bowl Of All-Purpose Flour.
Prepare 2 of Eggs Mixed In Bowl For Eggwash.
It's 1 of Whole Pan Of Oil (Deep Enough For Frying).
You need 2 tbsp of Oil for Sautee.
It's 1 of Garlic Salt & Pepper (Seasoning For Flour To Your Liking But Be Sparingly Or Will Change Flavor of Dish).
It's 1 of Strainer Bowl.
Prepare 1 of Large Pan For Sautee&Finishing Dish.
Panda Express Sweet Fire Chicken instructions
Mix Your Garlic Salt & Pepper Into The Flour and Set Aside..
Then Take All The Pieces Of Chicken and Put Them Into The Egg wash Until They Are Fully Coated.
After That Take a Strainer Spoon and Scoop the Coated Chicken (Removing Excess Eggwash) Into The Bowl Of Flour & Seasoning.
Once all the Chicken is in The Flour, You'll Mix Them with a Big Plastic Spoon until all the Chicken is fully coated..
Then Begin Heating Your Pan Of Oil.
While The Oil Heats Up, Pour your Chicken and Flour Mix into the Strainer Bowl and Remove as much Excess flour as you can until You can see Mostly just all the Coated Chicken pieces (There Will Be Small Clumps Of Flour, This is Okay).
Once Chicken is Strained and Your Oil is Hot, Put a Single Layer Batch of Chicken in the Oil but do not OverLap any pieces..
Fry the Chicken until they are evenly golden brown on both sides (Shouldn't take long, about 6min).
Once First batch is done place them in a bowl with paper towels to Dry and Begin Your Next Batch.
Once all Chicken is Fried set the bowl aside.
Take Your Clean Pan and start heating the two tablespoons of Oil.
Once hot, add the Garlic, Onion, and Bell Pepper to the pan and sauteed for 3-4min.
When the Garlic, Onion, And bell Pepper are Sauteed a bit add the cut Pineapple and cook another 3min.
Then add all of the Chicken, the entire bottle of Sweet Chili Sauce and Pineapple Juice. Mix well..
Once fully coated in sauce and ingredients are all mixed together, Cover with lid and simmer on a medium low heat for 7min (Stirring Occasionally).
When Chicken Looks Coated in a Thick Glaze of The Sauce it's finished..
Serve with a Bed of Jasmine Rice & Enjoy! :).