Pumpkin Roll Bars.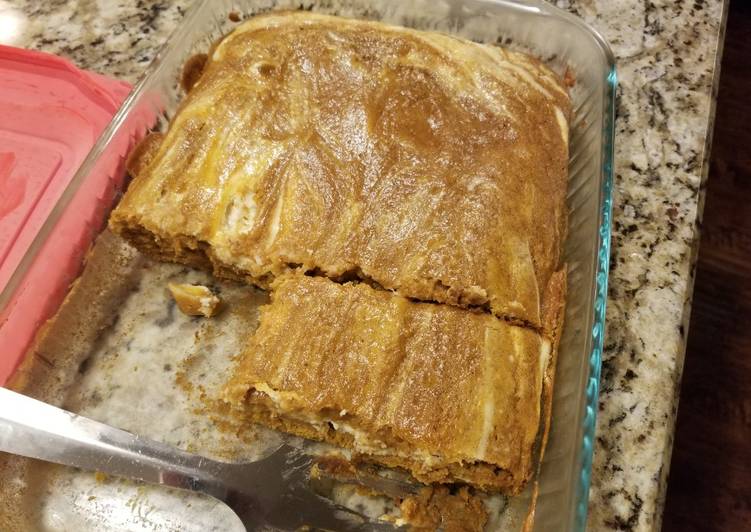 You can cook Pumpkin Roll Bars using 17 ingredients and 9 steps. Here is how you cook that.
Ingredients of Pumpkin Roll Bars
You need 6 tbls of butter.
Prepare 1 1/2 cups of sugar.
Prepare 2 of eggs.
Prepare 15 oz. of Canned pumpkin.
It's 1/4 cup of water.
You need 2 cups of flour.
You need 2 tsp of ground cinnamon.
It's 1/2 tsp of ground ginger.
It's 1/2 tsp of ground nutmeg.
You need 1 tsp of vanilla.
You need 1 tsp of baking soda.
Prepare 1/2 tsp of baking powder.
Prepare 1/4 tsp of salt.
You need 8 oz of cream cheese softened.
Prepare 1/4 cup of sugar.
It's 1/2 tsp of vanilla.
It's 1 of egg.
Pumpkin Roll Bars step by step
Preheat oven to 350.
Mix butter and 1 1/2 cup sugar until smooth. Beat in 2 eggs, pumpkin, 1 tsp vanilla and water until blended..
In separate bowl mix flour, cinnamon, ginger, nutmeg, baking soda, baking powder and salt..
Add both mixtures together until blended well..
Spread 2/3 batter into lightly greased 9×13 pan..
Mix cream cheese, 1 egg, 1/4 cup sugar and 1/2 tsp vanilla..
Spread cream cheese mixture over pumpkin batter..
Dollop remaining pumpkin batter on top of cream cheese mixture. Use knife to swirl together..
Bake 30-35 minutes until pumpkin just springs back. Cool completely and cut into bars..